Behavioral economists have a concept called loss aversion. It's almost always described something like this:
It is crazy – because it's not true! The pop definition of loss aversion given above – that 'losses hurt more than equivalently sized gains' – is precisely the concept of diminishing marginal utility (DMU) that is boringly standard in standard price theory.
Loss aversion is, in fact, a distinct and (perhaps) useful concept. But somewhat obnoxiously, many behavioral economists, particularly in their popular writings, have a tendency to conflate it with DMU in a way that makes the concept seem far more intuitive than it is, and in the process wrongly makes standard price theory look bad.
I'm not just cherry-picking a bad Wikipedia edit. I name names at the bottom of this post, listing where behavioral economists have (often!) given the same misleading definition. It's wrong! Loss aversion is about reference dependence.
Let me walk through the difference between DMU and loss aversion painstakingly slowly:
If you own nothing but $1,000 and the clothes on your back, and I then give you $100,000, that is going to give you a heck of a lot more extra happiness then if you had $100 million and I gave you $100,000.
An important corollary follows immediately from this: losses hurt more than gains!
What we have here is a graph of your utility as a function of your wealth under extremely standard (i.e., non-behavioral) assumptions. The fact that the line flattens out as you get to higher wealth levels is the property of DMU.
We can also see that equivalently sized losses hurt more than gains. As you go from 10k wealth to 2k wealth (middle green line to bottom green line), your utility falls by more than the amount your utility rises if you go from 10k wealth to 18k wealth (middle green to top green lines), despite the change in wealth being the same 8k in both directions.
Standard economics will always assume DMU, thus capturing exactly the intuition of the idea described in the above Wikipedia definition of loss aversion.
More mathematically – and I'm going to breeze through this – if your utility is purely a function of your wealth, Utility=U(W), then we assume that U'(W)>0 but U''(W)<0, i.e. your utility function is concave. With these assumptions, the result that U(W+ε)-U(W) < U(W)-U(W-ε) follows from taking a Taylor expansion. See proof attached below.
In words, loss aversion says this: Suppose you have nothing but the clothes you're wearing and $10,000 in your pocket, and then another $10,000 appears in your pocket out of nowhere. Your level of utility/happiness will now be some quantity given your wealth of $20,000.
Now consider a situation where you only own your clothes and the $30,000 in your pocket. Suppose suddenly $10,000 in your pocket disappears. Your total wealth is $20,000 – that is, exactly the same as the prior situation. Loss aversion predicts that in this situation, your level of utility will be lower than in the first situation, despite the fact that in both situations your wealth is exactly $20,000, because you lost money to get there.
Perhaps this concept of loss aversion is reasonable in some situations. It doesn't seem crazy to think that people don't like to lose things they had before.
But this concept is entirely different from the idea that 'people dislike losses more than they like gains' which some sloppy behavioral economists go around blathering about. It's about reference dependence! Your utility depends on your reference point: did you start with higher or lower wealth than you currently have?
In their academic papers, behavioral economists are very clear on the distinction. The use of math in formal economic models imposes precision. But when writing for a popular audience in the less-precise language of English – see below for examples – the same economists slip into using an incorrect definition of loss aversion.
Until very recently – see last month's WSJ survey of economists – the FOMC was widely expected to raise the target federal funds rate this week at their September meeting. Whether or not the Fed should be raising rates is a question that has received much attention from a variety of angles. What I want to do in this post is answer that question from a very specific angle: the perspective of a New Keynesian economist.
Why the New Keynesian perspective? There is certainly a lot to fault in the New Keynesian model (see e.g. Josh Hendrickson). However, the New Keynesian framework dominates the Fed and other central banks across the world. If we take the New Keynesian approach seriously, we can see what policymakers should be doing according to their own preferred framework.
The punch line is that the Fed raising rates now is the exact opposite of what the New Keynesian model of a liquidity trap recommends.
If you're a New Keynesian, this is the critical moment in monetary policy. For New Keynesians, the zero lower bound can cause a recession, but need not result in a deep depression, as long as the central bank credibly promises to create an economic boom after the zero lower bound (ZLB) ceases to be binding.
That promise of future growth is sufficient to prevent a depression. If the central bank instead promises to return to business as normal as soon as the ZLB stops binding, the result is a deep depression while the economy is trapped at the ZLB, like we saw in 2008 and continue to see in Europe today. The Fed appears poised to validate earlier expectations that it would indeed return to business as normal.
If the New Keynesian model is accurate, this is extremely important. By not creating a boom today, the Fed is destroying any credibility it has for the next time we hit the ZLB (which will almost certainly occur during the next recession). It won't credibly be able to promise to create a boom after the recession ends, since everyone will remember that it did not do so after the 2008 recession.
The result, according to New Keynesian theory, will be another depression.
I. The theory: an overview of the New Keynesian liquidity trap
I have attached at the bottom of this post a reference sheet going into more detail on Eggertsson and Woodford (2003), the definitive paper on the New Keynesian liquidity trap. Here, I summarize at a high level –skip to section II if you are familiar with the model.
A. The NK model without a ZLB
Let's start by sketching the standard NK model without a zero lower bound, and then see how including the ZLB changes optimal monetary policy.
The basic canonical New Keynesian model of the economy has no zero lower bound on interest rates and thus no liquidity traps (in the NK context, a liquidity trap is defined as a period when the nominal interest rate is constrained at zero). Households earn income through labor and use that income to buy a variety of consumption goods and consume them to receive utility. Firms, which have some monopoly power, hire labor and sell goods to maximize their profits. Each period, a random selection of firms are not allowed to change their prices (Calvo price stickiness).
With this setup, the optimal monetary policy is to have the central bank manipulate the nominal interest rate such that the real interest rate matches the "natural interest rate," which is the interest rate which would prevail in the absence of economic frictions. The intuition is that by matching the actual interest rate to the "natural" one, the central bank causes the economy to behave as if there are no frictions, which is desirable.
In our basic environment without a ZLB, a policy of targeting zero percent inflation via a Taylor rule for the interest rate exactly achieves the goal of matching the real rate to the natural rate. Thus optimal monetary policy results in no inflation, no recessions, and everyone's the happiest that they could possibly be.
B. The NK liquidity trap
The New Keynesian model of a liquidity trap is exactly the same as the model described above, with one single additional equation: the nominal interest rate must always be greater than or equal to zero.
This small change has significant consequences. Whereas before zero inflation targeting made everyone happy, now such a policy can cause a severe depression.
The problem is that sometimes the interest rate should be less than zero, and the ZLB can prevent it from getting there. As in the canonical model without a ZLB, optimal monetary policy would still have the central bank match the real interest rate to the natural interest rate.
Now that we have a zero lower bound, however, if the central bank targets zero inflation, then the real interest rate won't be able to match the natural interest rate if the natural interest rate ever falls below zero!
And that, in one run-on sentence, is the New Keynesian liquidity trap.
Optimal policy is no longer zero inflation. The new optimal policy rule is considerably more complex and I refer you to the attached reference sheet for full details. But the essence of the idea is quite intuitive:
If the economy ever gets stuck at the ZLB, the central bank must promise that as soon as the ZLB is no longer binding it will create inflation and an economic boom.
The intuition behind this idea is that the promise of a future boom increases the inflation expectations of forward-looking households and firms. These increased inflation expectations reduce the real interest rate today. This in turn encourages consumption today, diminishing the depth of the recession today.
All this effect today despite the fact that the boom won't occur until perhaps far into the future! Expectations are important, indeed they are the essence of monetary policy.
C. An illustration of optimal policy
Eggertsson (2008) illustrates this principle nicely in the following simulation. Suppose the natural rate is below the ZLB for 15 quarters. The dashed line shows the response of the economy to a zero-inflation target, and the solid line the response to the optimal policy described above.
Under optimal policy (solid line), we see in the first panel that the interest rate is kept at zero even after period 15 when the ZLB ceases to bind. As a result, we see in panels two and three that the depth of the recession is reduced to almost zero under policy; there is no massive deflation; and there's a nice juicy boom after the liquidity trap ends.
In contrast, under the dashed line – which you can sort of think of as closer to the Fed's current history independent policy – there is deflation and economic disaster.
II. We're leaving the liquidity trap; where's our boom?
To be completely fair, we cannot yet say that the Fed has failed to follow its own model. We first must show that the ZLB only recently has ceased or will cease to be binding. Otherwise, a defender of the Fed could argue that the lower bound could have ceased to bind years ago, and the Fed has already held rates low for an extended period.
The problem for showing this is that estimating the natural interest rate is extremely challenging, as famously argued by Milton Friedman (1968). That said, several different models using varied estimation methodologies all point to the economy still being on the cusp of the ZLB, and thus the thesis of this post: the Fed is acting in serious error.
Consider, most tellingly, the New York Fed's own model! The NY Fed's medium-scale DSGE model is at its core the exact same as the basic canonical NK model described above, with a lot of bells and whistles grafted on. The calibrated model takes in a whole jumble of data – real GDP, financial market prices, consumption, the kitchen sink, forecast inflation, etc. – and spits outs economic forecasts.
It can also tell us what it thinks the natural interest rate is. From the perspective of the New York Fed DSGE team, the economy is only just exiting the ZLB:
Barsky et al (2014) of the Chicago Fed perform a similar exercise with their own DSGE model and come to the same conclusion: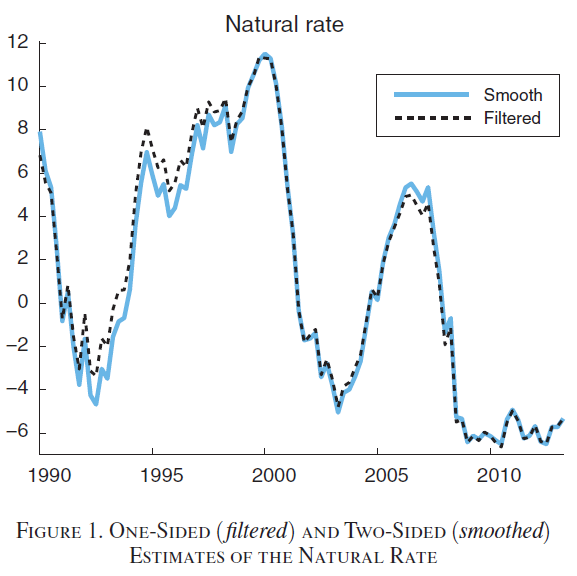 Instead of using a microfounded DSGE model, John Williams and Thomas Laubach, president of the Federal Reserve Bank of San Francisco and director of monetary affairs of the Board of Governors respectively, use a reduced form model estimated using a Kalman filter. Their model has that the natural rate in fact still below its lower bound (in green):
David Beckworth has a cruder but more transparent regression model here and also finds that the economy remains on the cusp of the ZLB (in blue):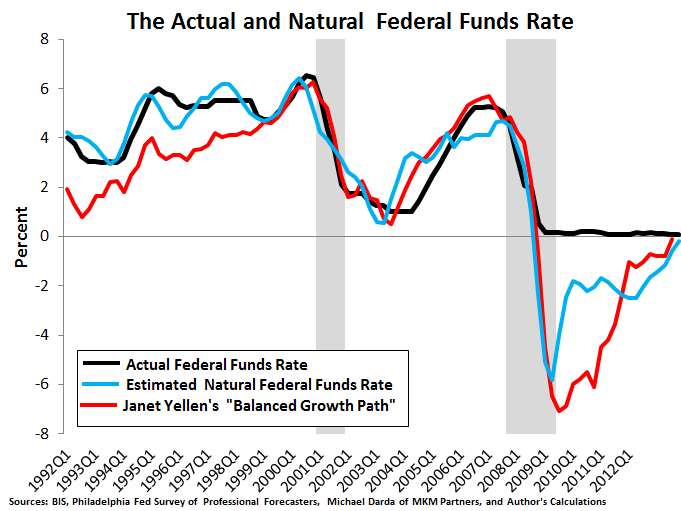 If anyone knows of any alternative estimates, I'd love to hear in the comments.
With this fact established, we have worked through the entire argument. To summarize:
The Fed thinks about the world through a New Keynesian lens
The New Keynesian model of a liquidity trap says that to prevent a depression, the central bank must keep rates low even after the ZLB stops being binding, in order to create an economic boom
The economy is only just now coming off the ZLB
Therefore, a good New Keynesian should support keeping rates at zero.
So: why is the Fed about to raise rates?!
III. What's the strongest possible counterargument?
I intend to conclude all future essays by considering the strongest possible counterarguments to my own. In this case, I see only two interesting critiques:
A. The NK model is junk
This argument is something I have a lot of sympathy for. Nonetheless, it is not a very useful point, for two reasons.
First, the NK model is the preferred model of Fed economists. As mentioned in the introduction, this is a useful exercise as the Fed's actions should be consistent with its method of thought. Or, its method of thought must change.
Second, other models give fairly similar results. Consider the more monetarist model of Auerbach and Obstfeld (2005) where the central bank's instrument is the money supply instead of the interest rate (I again attach my notes on the paper below).
Instead of prescribing that the Fed hold interest rates lower for longer as in Eggertsson and Woodford, Auerbach and Obstfeld's cash-in-advance model shows that to defeat a liquidity trap the Fed should promise a one-time permanent level expansion of the money supply. That is, the expansion must not be temporary: the Fed must continue to be "expansionary" even after the ZLB has ceased to be binding by keeping the money supply expanded.
This is not dissimilar in spirit to Eggertsson and Woodford's recommendation that the Fed continue to be "expansionary" even after the ZLB ceases to bind by keeping the nominal rate at zero.
B. The ZLB ceased to bind a long time ago
The second possible argument against my above indictment of the Fed is the argument that the natural rate has long since crossed the ZLB threshold and therefore the FOMC has targeted a zero interest rate for a sufficiently long time.
This is no doubt the strongest argument a New Keynesian Fed economist could make for raising rates now. That said, I am not convinced, partly because of the model estimations shown above. More convincing to me is the fact that we have not seen the boom that would accompany interest rates being below their natural rate. Inflation has been quite low and growth has certainly not boomed.
Ideally we'd have some sort of market measure of the natural rate (e.g. a prediction market). As a bit of an aside, as David Beckworth forcefully argues, it's a scandal that the Fed Board does not publish its own estimates of the natural rate. Such data would help settle this point.
---
I'll end things there. The New Keynesian model currently dominates macroeconomics, and its implications for whether or not the Fed should be raising rates in September are a resounding no. If you're an economist who finds value in the New Keynesian perspective, I'd be extremely curious to hear why you support raising rates in September if you do – or, if not, why you're not speaking up more loudly.
Jan 6, 2015
Edit: The critique in this post – that NGDP targeting cannot achieve zero inflation in the long run without discretion – is somewhat tempered by my 2017 follow-up here: perhaps zero long-run inflation would be inferior to a long-run Friedman rule; which in fact can be naturally implemented with NGDP targeting.
Summary:
NGDP growth is equal to real GDP growth plus inflation. Thus, under NGDP targeting, if the potential real growth rate of the economy changes, then the full-employment inflation rate changes.
New Keynesians advocate that the Fed adjust the NGDP target one for one with changes in potential GDP. However, this rule would be extremely problematic for market monetarists.
Most importantly, it is simply not possible to estimate potential GDP in real time: an accurate structural model will never be built.
Further: such a policy would give the Fed huge amounts of discretion; unanchor long term expectations, especially under level targeting; and be especially problematic if technological growth rapidly accelerates as some predict.
---
I want to discuss a problem that I see with nominal GDP targeting: structural growth slowdowns. This problem isn't exactly a novel insight, but it is an issue with which I think the market monetarist community has not grappled enough.
I. A hypothetical example
Remember that nominal GDP growth (in the limit) is equal to inflation plus real GDP growth. Consider a hypothetical economy where market monetarism has triumphed, and the Fed maintains a target path for NGDP growing annually at 5% (perhaps even with the help of a NGDP futures market). The economy has been humming along at 3% RGDP growth, which is the potential growth rate, and 2% inflation for (say) a decade or two. Everything is hunky dory.
But then – the potential growth rate of the economy drops to 2% due to structural (i.e., supply side) factors, and potential growth will be at this rate for the foreseeable future.
Perhaps there has been a large drop in the birth rate, shrinking the labor force. Perhaps a newly elected government has just pushed through a smorgasbord of measures that reduce the incentive to work and to invest in capital. Perhaps, most plausibly (and worrisomely!) of all, the rate of innovation has simply dropped significantly.
In this market monetarist fantasy world, the Fed maintains the 5% NGDP path. But maintaining 5% NGDP growth with potential real GDP growth at 2% means 3% steady state inflation! Not good. And we can imagine even more dramatic cases.
II. Historical examples
Skip this section if you're convinced that the above scenario is plausible
Say a time machine transports Scott Sumner back to 1980 Tokyo: a chance to prevent Japan's Lost Decade! Bank of Japan officials are quickly convinced to adopt an NGDP target of 9.5%, the rationale behind this specific number being that the average real growth in the 1960s and 70s was 7.5%, plus a 2% implicit inflation target.
Thirty years later, trend real GDP in Japan is around 0.0%, by Sumner's (offhand) estimation and I don't doubt it. Had the BOJ maintained the 9.5% NGDP target in this alternate timeline, Japan would be seeing something like 9.5% inflation today.
Counterfactuals are hard: of course much else would have changed had the BOJ been implementing NGDPLT for over 30 years, perhaps including the trend rate of growth. But to a first approximation, the inflation rate would certainly be approaching 10%.
Or, take China today. China saw five years of double digit real growth in the mid-2000s, and not because the economy was overheating. I.e., the 12.5% and 14% growth in real incomes in China in 2006 and 2007 were representative of the true structural growth rate of the Chinese economy at the time. To be conservative, consider the 9.4% growth rate average over the decade, which includes the meltdown in 2008-9 and a slowdown in the earlier part of the decade.
Today, growth is close to 7%, and before the decade is up it very well could have a 5 handle. If the People's Bank had adopted NGDP targeting at the start of the millennium with a 9.4% real growth rate in mind, inflation in China today would be more than 2 percentage points higher than what the PBOC desired when it first set the NGDP target! That's not at all trivial, and would only become a more severe issue as the Chinese economy finishes converging with the developed world and growth slows still further.
This isn't only a problem for countries playing catch-up to the technological frontier. France has had a declining structural growth rate for the past 30 years, at first principally because of declining labor hours/poor labor market policies and then compounded by slowing productivity and population growth. The mess that is Russia has surely had a highly variable structural growth rate since the end of the Cold War. The United States today, very debatably, seems to be undergoing at least some kind of significant structural change in economic growth as well, though perhaps not as drastic.

Source: Margaret Jacobson, "Behind the Slowdown of Potential GDP"
III. Possible solutions to the problem of changing structural growth
There are really only two possible solutions to this problem for a central bank to adopt.
First, you can accept the higher inflation, and pray to the Solow residual gods that the technological growth rate doesn't drop further and push steady state inflation even higher. I find this solution completely unacceptable. Higher long term inflation is simply never a good thing; but even if you don't feel that strongly, you at least should feel extremely nervous about risking the possibility of extremely high steady state inflation.
Second, you can allow the central bank to periodically adjust the NGDP target rate (or target path) to adjust for perceived changes to the structural growth rate. For example, in the original hypothetical, the Fed would simply change its NGDP target path to grow at 4% instead of 5% as previously so that real income grows at 2% and inflation continues at 2%.
IV. This is bad – and particularly bad for market monetarists
This second solution, I think, is probably what Michael Woodford, Brad DeLong, Paul Krugman, and other non-monetarist backers of NGDP targeting would support. Indeed, Woodford writes in his Jackson Hole paper, "It is surely true – and not just in the special model of Eggertsson and Woodford – that if consensus could be reached about the path of potential output, it would be desirable in principle to adjust the target path for nominal GDP to account for variations over time in the growth of potential." (p. 46-7) Miles Kimball notes the same argument: in the New Keynesian framework, an NGDP target rate should be adjusted for changes in potential.
However – here's the kicker – allowing the Fed to change its NGDP target is extremely problematic for some of the core beliefs held by market monetarists. (Market monetarism as a school of thought is about more than merely just NGDP targeting – see Christensen (2011) – contra some.) Let me walk through a list of these issues now; by the end, I hope it will be clear why I think that Scott Sumner and others have not discussed this issue enough.
IVa. The Fed shouldn't need a structural model
For the Fed to be able to change its NGDP target to match the changing structural growth rate of the economy, it needs a structural model that describes how the economy behaves. This is the practical issue facing NGDP targeting (level or rate). However, the quest for an accurate structural model of the macroeconomy is an impossible pipe dream: the economy is simply too complex. There is no reason to think that the Fed's structural model could do a good job predicting technological progress. And under NGDP targeting, the Fed would be entirely dependent on that structural model.
Ironically, two of Scott Sumner's big papers on futures market targeting are titled, "Velocity Futures Markets: Does the Fed Need a Structural Model?" with Aaron Jackson (their answer: no), and "Let a Thousand Models Bloom: The Advantages of Making the FOMC a Truly 'Open Market'".
In these, Sumner makes the case for tying monetary policy to a prediction market, and in this way having the Fed adopt the market consensus model of the economy as its model of the economy, instead of using an internal structural model. Since the price mechanism is, in general, extremely good at aggregating disperse information, this model would outperform anything internally developed by our friends at the Federal Reserve Board.
If the Fed had to rely on an internal structural model adjust the NGDP target to match structural shifts in potential growth, this elegance would be completely lost! But it's more than just a loss in elegance: it's a huge roadblock to effective monetary policymaking, since the accuracy of said model would be highly questionable.
IVb. Rules are better than discretion
Old Monetarists always strongly preferred a monetary policy based on well-defined rules rather than discretion. This is for all the now-familiar reasons: the time-inconsistency problem; preventing political interference; creating accountability for the Fed; etc. Market monetarists are no different in championing rule-based monetary policy.
Giving the Fed the ability to modify its NGDP target is simply an absurd amount of discretionary power. It's one thing to give the FOMC the ability to decide how to best achieve its target, whether than be 2% inflation or 5% NGDP. It's another matter entirely to allow it to change that NGDP target at will. It removes all semblance of accountability, as the Fed could simply move the goalessays whenever it misses; and of course it entirely recreates the time inconsistency problem.
IVc. Expectations need to be anchored
Closely related to the above is the idea that monetary policy needs to anchor nominal expectations, perhaps especially at the zero lower bound. Monetary policy in the current period can never be separated from expectations about future policy. For example, if Janet Yellen is going to mail trillion dollar coins to every American a year from now, I am – and hopefully you are too – going to spend all of my or your dollars ASAP.
Because of this, one of the key necessary conditions for stable monetary policy is the anchoring of expectations for future policy. Giving the Fed the power to discretionarily change its NGDP target wrecks this anchor completely!
Say the Fed tells me today that it's targeting a 5% NGDP level path, and I go take out a 30-year mortgage under the expectation that my nominal income (which remember is equal to NGDP in aggregate) will be 5% higher year after year after year. This is important as my ability to pay my mortgage, which is fixed in nominal terms, is dependent on my nominal income.
But then Janet Yellen turns around and tells me tomorrow, "Joke's on you pal! We're switching to a 4% level target." It's simply harder for risk-averse consumers and firms to plan for the future when there's so much possible variation in future monetary policy.
IVd. Level targeting exacerbates this issue
Further, level targeting exacerbates this entire issue. The push for level targeting over growth rate targeting is at least as important to market monetarism as the push for NGDP targeting over inflation targeting, for precisely the reasoning described above. To keep expectations on track, and thus not hinder firms and households trying to make decisions about the future, the central bank needs to make up for past mistakes, i.e. level target.
However, level targeting has issues even beyond those that rate targeting has, when the central bank has the ability to change the growth rate. In particular: what happens if the Fed misses the level target one year, and decides at the start of the next to change its target growth rate for the level path?
For instance, say the Fed had adopted a 5% NGDP level target in 2005, which it maintained successfully in 2006 and 2007. Then, say, a massive crisis hits in 2008, and the Fed misses its target for say three years running. By 2011, it looks like the structural growth rate of the economy has also slowed. Now, agents in the economy have to wonder: is the Fed going to try to return to its 5% NGDP path? Or is it going to shift down to a 4.5% path and not go back all the way? And will that new path have as a base year 2011? Or will it be 2008?
(Note: I am aware that had the Fed been implementing NGDPLT in 2008 the crisis would have been much less severe, perhaps not even a recession! The above is for illustration.)
(Also, I thank Joe Mihm for this point.)
IVe. This problem for NGDP targeting is analogous to the velocity instability problem for Friedman's k-percent rule
Finally, I want to make an analogy that hopefully emphasizes why I think this issue is so serious. Milton Friedman long advocated that the Fed adopt a rule whereby it would have promised to keep the money supply (M2, for Friedman) growing at a steady rate of perhaps 3%. Recalling the equation of exchange, MV = PY, we can see that when velocity is constant, the k-percent rule is equivalent to NGDP targeting!
In fact, velocity used to be quite stable:

Source: FRED
For the decade and a half or two after 1963 when Friedman and Schwartz published A Monetary History, the rule probably would have worked brilliantly. But between high inflation and financial innovation in the late 70s and 80s, the stable relationship between velocity, income, and interest rates began to break down, and the k-percent rule would have been a disaster. This is because velocity – sort of the inverse of real, income-adjusted money demand – is a structural, real variable that depends on the technology of the economy and household preferences.
The journals of the 1980s are somewhat famously a graveyard of structural velocity models attempting to find a universal model that could accurately explain past movements in velocity and accurately predict future movements. It was a hopeless task: the economy is simply too complex. (I link twice to the same Hayek essay for a reason.) Hence the title of the Sumner and Jackson paper already referenced above.
Today, instead of hopelessly modeling money demand, we have economists engaged in the even more hopeless task of attempting to develop a structural model for the entire economy. Even today, when the supply side of the economy really changes very little year-to-year, we don't do that good of a job at it.
And (this is the kicker) what happens if the predictability of the structural growth rate breaks down to the same extent that the predictability of velocity broke down in the 1980s? What if, instead of the structural growth rate only changing a handful of basis points each year, we have year-to-year swings in the potential growth rate on the order of whole percentage points? I.e., one year the structural growth is 3%, but the next year it's 5%, and the year after that it's 2.5%?
I know that at this point I'm probably losing anybody that has bothered to read this far, but I think this scenario is entirely more likely than most people might expect. Rapidly accelerating technological progress in the next couple of decades as we reach the "back half of the chessboard", or even an intelligence explosion, could very well result in an extremely high structural growth rate that swings violently year to year.
However, it is hard to argue either for or against the techno-utopian vision I describe and link to above, since trying to estimate the future of productivity growth is really not much more than speculation. That said, it does seem to me that there are very persuasive arguments that growth will rapidly accelerate in the next couple of decades. I would point those interested in a more full-throated defense of this position to the work of Robin Hanson, Erik Brynjolfsson and Andrew McAfee, Nick Bostrom, and Eliezer Yudkowsky.
If you accept the possibility that we could indeed see rapidly accelerating technological change, an "adaptable NGDP target" would essentially force the future Janet Yellen to engage in an ultimately hopeless attempt to predict the path of the structural growth rate and to chase after it. I think it's clear why this would be a disaster.
V. An anticipation of some responses
Before I close this out, let me anticipate four possible responses.
1. NGDP variability is more important than inflation variability
Nick Rowe makes this argument here and Sumner also does sort of here. Ultimately, I think this is a good point, because of the problem of incomplete financial markets described by Koenig (2013) and Sheedy (2014): debt is priced in fixed nominal terms, and thus ability to repay is dependent on nominal incomes.
Nevertheless, just because NGDP targeting has other good things going for it does not resolve the fact that if the potential growth rate changes, the long run inflation rate would be higher. This is welfare-reducing for all the standard reasons. Because of this, it seems to me that there's not really a good way of determining whether NGDP level targeting or price level targeting is more optimal, and it's certainly not the case that NGDPLT is the monetary policy regime to end all other monetary policy regimes.
2. Target NGDP per capita instead!
You might argue that if the most significant reason that the structural growth rate could fluctuate is changing population growth, then the Fed should just target NGDP per capita. Indeed, Scott Sumner has often mentioned that he actually would prefer an NGDP per capita target. To be frank, I think this is an even worse idea! This would require the Fed to have a long term structural model of demographics, which is just a terrible prospect to imagine.
3. Target nominal wages/nominal labor compensation/etc. instead!
Sumner has also often suggested that perhaps nominal aggregate wage targeting would be superior to targeting NGDP, but that it would be too politically controversial. Funnily enough, the basic New Keynesian model with wage stickiness instead of price stickiness (and no zero lower bound) would recommend the same thing.
I don't think this solves the issue. Take the neoclassical growth or Solow model with Cobb-Douglas technology and preferences and no population growth. On the balanced growth path, the growth rate of wages = the potential growth rate of the economy = the growth rate of technology. For a more generalized production function and preferences, wages and output still grow at the same rate.
In other words, the growth rate of real wages parallels that of the potential growth rate of the economy. So this doesn't appear to solve anything, as it would still require a structural model.
4. Set up a prediction market for the structural growth rate!
I don't even know if this would work well with Sumner's proposal. But perhaps it would. In that case, my response is... stay tuned for my critique of market monetarism, part two: why handing policymaking over to prediction markets is a terrible idea.
VI. In conclusion
The concerns I outline above have driven me from an evangelist for NGDP level targeting to someone extremely skeptical that any central banking policy can maintain monetary equilibrium. The idea of optimal policy under NGDP targeting necessitating a structural model of the economy disturbs me, for a successful such model – as Sumner persuasively argues – will never be built. The prospect that NGDP targeting might collapse in the face of rapidly accelerating technological growth worries me, since it does seem to me that this very well could occur. And even setting aside the techno-utopianism, the historical examples described above, such as Japan in the 1980s, demonstrate that we have seen very large shifts in the structural growth rate in actual real-world economies.
I want to support NGDPLT: it is probably superior to price level or inflation targeting anyway, because of the incomplete markets issue. But unless there is a solution to this critique that I am missing, I am not sure that NGDP targeting is a sustainable policy for the long term, let alone the end of monetary history.